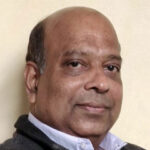 The Society of Jesus is commemorating the 500th year of St. Ignatius of Loyola's enlightenment. The canon ball that shattered the left knee of Ignatius of Loyola on 20th May, 1521, at Pamplona in Spain not only shattered his legs but all also his ego and all his worldly dreams of 'vain glory'. A life that was filled with the 'dreams of worldly glory' was turned around into one that relentlessly sought God and His glory. God was re-molding him into a fit instrument in his Divine hands. Ignatius surrendered himself into the hands God and He taught him 'as a school master teaches a child'. These experiences of enlightenment at Manresa, often referred in Jesuit literature as 'Cardoner Experience' was the cornerstone of Ignatius' enlightenment. It was an experience of all reality coming forth from God, all reality returning to God, all reality seen and understood only in God. This made him to realize the intimate connectedness he has with God, with oneself and others and with the entire creation. This centrality of God and everything else in one interconnected whole was what made Ignatius want to seek God's glory through self-less service of fellowmen. He firmly believed that 'love ought to be manifested in deeds' – deeds of total commitment. As he himself describes in his Autobiography, his heart was 'ablaze with love of God'. It is a flame of magis.
It is this fire – the spirit of magis – that has carried thousands of Jesuits across the globe seeking God's glory through selfless service of their fellow-men. We, the Dumka-Raiganj Jesuits inherited the same fire carried to us from the tiny island of Malta in Southern Europe. We labour on with the same flame in our hearts to reach out to the tribals and marginalized people of Eastern India, namely in the three states of Jharkhand, West Bengal and Bihar.
Deeply rooted and inspired by the message of Jesus, and guided by the same Ignatian ideal of seeking God's glory in all that we do, we aim to transform the society we live in according to the gospel values of love, forgiveness, self-less service, compassion and justice. We reach out and minister to some of the poorest and most marginalized groups. We carry on the Ignatian flame through the ministry of faith-formation, education, social action, health services and impacting the youth. The impact of our service has borne fruit in the form a large body of educated, well employed people, especially the youth from the marginalized communities. The ministry of faith sharing and faith formation has led the seed that was planted in 1924 at Majlispur to grow into a large fruitful tree with the present-day dioceses of Dumka, Raiganj and Purnea.
We, the Dumka-Raiganj Jesuits, hope that many generous young men will join us to carry on this flame of loving service and many more generous hearts will collaborate with us in bring about the realization of the 'Kingdom of God' on earth. Let us allow God to re-mold each one of us into fit instruments in His hands.